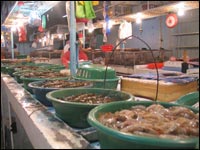 When people think of
dampaans
around the Metro, the eateries along Roxas Boulevard, Sucat, or even Libis, come to mind. But did you know that there is one right in the heart of Ortigas in the Metrowalk complex, behind the Home Depot compound?
METROWALK's SEASIDE PALENGKE
Before going to one of Metrowalk's
paluto
restaurants, you have to consider whether you want to buy your food fresh at the
palengke
that is right next to the row of restaurants, or if you'd rather order a la carte. But why pick the latter when you can ensure the freshness of your seafood and meats when buying from the
palengke
?
THE PRICES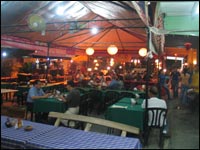 There's hardly any discrepancy in prices for seafood at Metrowalk's Seaside
Palengke
. For the most part(unless you have a
suki
that you go to each time you eat there who will lower the prices especially for you), prices remain consistent from stall-to-stall. Crabs are P270.00/kilo; shrimps are P350.00/kilo ; tilapia are P90.00/kilo; clams are P70.00/kilo; squid are P170.00/kilo. Feel free to pick-up and to examine your seafood (and meats, if that's your preference, although the Seaside Palengke specializes in, well,
seafood
) as often as you feel necessary.
THE PROCESS
If you decide to buy your seafood and/or meats yourself, pick any one of the
paluto
restaurants and have them cook your food according to your serving preferences.
Aling Tonya's
restaurant is popular among locals and they're known for their speedy and efficient 'service with a smile.'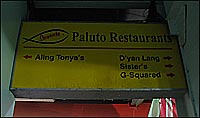 The price of your meal at the
paluto
will be determined by how many kilos (or half-kilos) you have ordered, as each type of food has a specified price per kilo, ranging from P100.00-P200.00 and P60.00-P100.00 per half-kilo.
Delicious fruit shakes, sodas, beer, and other alcoholic cocktails are also included in the
paluto
menus.
However, if you don't feel like you have the know-how of distinguishing between a decent crab and a not-so-fresh crab, then it's best for you to order a la carte from the restaurant itself. The disadvantage to this is that you do not know whether your dishes are fresh off the stalls or if they are merely thawed from the freezer. So buyer beware.
RECOMMENDATIONS
Try the crab! Have the
paluto
cook it with salt and pepper sauce or a rich, butter and garlic seasoning. And don't forget to have a sampling of the fresh seaweed, which is absolutely delectable (not to mention healthy) when served with tomatoes, onions and a vinegar dipping sauce on the side.
See you at the
dampaan!