Georgette Sanchez: She Leaps And She Conquers
posted on

Wed, 25 Feb 2009 12:00 AM
Dancing at the age of three,
Georgina Johanna Garcia Sanchez
, was under the caring and watchful eyes of her mother, Jeanette Garcia, in Bacolod City, where she was born, took her baby steps, ran, jumped, read out her ABC's and eventually wore her first tutu.
Those wonder years in Bacolod ingrained in her the love for ballet. In time, the little girl grew up to be a stunning miss, filled with the passion for dance and the love for the dance arts. In the early 1990's, the muses of dance lured her to Manila, and she became a member of Ballet Philippines, the country's premiere ballet company.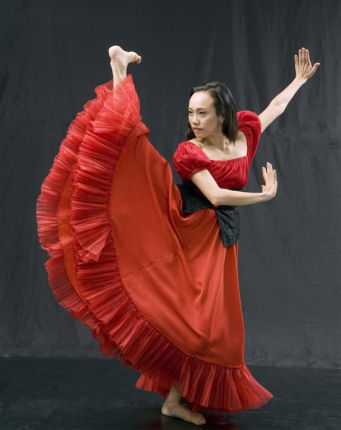 Under the tutelage of the legendary Agnes Locsin, followed by other artists like Nestor Jardin, Cecille Sicangco and Denisa Reyes, to say the Georgette blossomed, bloomed, leaped and conquered the legitimate dance stage – is an under statement.
Sanchez performed in classical and modern ballet major productions, toured with the company nationally and internationally, and earned her own share of accolades specifically, when she danced the lead role of Sita for the world premiere of Unraveling the Maya in Kuala Lumpur, Malaysia – a dance collaboration between Denisa Reyes and Ramili Ibrahim, and when she won silver medal and the recognition of European dance artists and choreographers in the 2000 9th Concours International de Danse de Paris, for her scintillating performances in Agnes Locsin's September and Alden Lugnasin's Aku.
Thus, when an invitation from renowned European choreographer and director Nicolas Musin came, requesting her to join the abcdancecompany in St. Potten, Austria, no one wondered why.
Presently, Georgette is back home – in Bacolod, where she teaches in the Garcia-Sanchez School of Dance, with her sister Gianne, and in Ballet Philippines – where heart truly belongs.
"I left BP March of 2002. I was very excited to leave for Austria, it was my first time. But I didn't have any idea how the company would be, it was a new company. I had mixed feelings at that time," she begins.
Admittedly, Georgette shares that her training and the discipline she got from the company gave her the confidence, "I was with BP for seven years as a company member, two years as an apprentice, and two years as a scholar. I had very good teachers. I was exposed to all the great Filipino dancers who became my inspiration. I was very lucky to have worked with amazing choreographers and ballet masters both from here and abroad. BP helped me discover myself and my capabilities. When I decided to leave, I was ready."
In the many years that you were part of the abcdancecompany, what did you miss most? "One of the things I really missed was the CCP building. It's always full of life, full of interesting people," she replies quickly. "I also missed the way people dealt with things. Filipinos are more understanding and considerate. Things were always resolved quietly. When I was abroad, I was shocked the first time I saw the dancers and the director screaming at each other. I just got used to it after a while. Of course, I missed the dancers, my teachers and everyone from BP!"
"I'm happy to be home since I'm close to all my love ones," she admits. "The first two years after coming back from Europe, I taught in our school in Bacolod. I loved life there. Very slow, and there's always time for everything," she reveals and continues, "I started to miss performing so I decided to dance for BP again. It felt great. But we all know that the life of an artist is not easy. If you are a dancer here in the Philippines, it's hard to have a comfortable life, if you are self supporting. There are advantages and disadvantages for being here. In the end, one has to choose what will make him happy."
What were your expectations? "Before I rejoined, I was hoping that the dancers now would also experience the glory we had before - tours for them, lots of guest choreographers and new and challenging repertoires. I was hoping too that they would be getting a better salary so that they won't leave the country or choose to do something else. Some things improved, and some things are being worked on. But the company is in very good hands and I'm happy for that," she answers.
Sanchez is also very much impressed with the discipline of her co-dancers, "The dancers now are very strong, hardworking and there's always a good working atmosphere in the studio. I'm very glad that there are more experienced dancers in the company. It inspires me to see how they work, to see the transformation in them as human beings since the last time I worked with them. The younger ones are very eager to learn. I'm very happy with the people I'm working with."
"It's my first time to work with Max.. The piece isn't done yet and I'm excited to see the outcome," reacts Georgette when asked to describe KatiTaog by Ballet Philippines ' Artistic Director, Max Luna III and Ulaging – Daog-dog Sa Sang Libong Kulog by BP Resident Choreographer, Alden Lugnasin, two of the special dance creations for Neo-Filipino, Ballet Philippines' season ender.
"I'm very happy that KALAYO is creating the music with us while Max is creating his work. They give so much life and energy to our dancing. Alden on the other hand is someone who I've worked with since 1994, as a choreographer. I was in almost all of his creations while I was with BP before. I consider myself also an Alden baby. I always enjoyed the creation process with him. It was always challenging and exciting for me. He is also a very good friend so we always discuss his works during the creation process. I'm very thrilled to be working with him again, after a long time. Regarding his creation now, it's also not finished, we still don't have the final music but as always, it's a joy to create with him," she further explains.
And what is her advice to the company dancers in particular and dance enthusiasts in general? "To the company dancers, train hard and always listen. Be humble. Enjoy your craft and love it and always be thankful for each day that you are dancing. You'll never know when it will be taken away from you. To the dance enthusiasts, thank you for the support. We as dancers are inspired to create and give because we know that there are those who appreciate what we do. And to everyone, enjoy life, love yourself and do whatever makes you happy!"
Performances of Neo- Filipino are slated on March 12,(8pm), 13 (3pm/8pm), 14 (3pm/8pm), and 15(10am/3pm) at the Tanghalang Nicanor Abelardo (Main Theater) of the CCP.

For ticket information about Ballet Philippines NEO-FILIPINO, call: Ticket world Outlets: +632 891 9999;CCP Box Office: +632 832 3704l; and Ballet Philippines : +632 551-0221/551-1003//832-6011 or , please visit BP online at www.balletphilippines..org