Atang: Isang Dulang May Musika
posted on

Mon, 22 Dec 2008 12:00 AM
In 1987, President Corazon Aquino conferred the National Artist Award for Music and Theatre to
Honorata "Atang" Dela Rama
, wife of labor union leader and also a National Artist awardee (for literature) Amado V. Hernandez. At that time, a rising movie star, Gia Almonte was pegged to portray the life story of Ka Atang. Unfortunately, the movie did not make it on the big screen because Atang refused the idea of her life in the big screen. In an interview on Atang, she mentioned that the idea of a film may just distort, deflect, and glamorize events which she knows to be life's mysteries. Atang did not compromise herself to be "momentarily" remembered through the film media. But who is Gia Almonte? Was there a film project on Atang Dela Rama during the time she was mythified as a National Artist?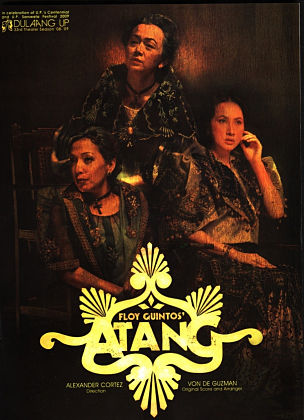 Historically, Gia Almonte and the film project did not exist. However, Gia and the film project do exist in a new play by Floy Quintos billed as "Atang: isang dulang may musika" directed by Alexander Cortez. In this new play, Gia Almonte (Ayen Munji-Laurel and Kalila Aguilos) visits Atang (Shamaine Centenera-Buencamino and Frances Makil-Ignacio) in her home in Gagalangin, Tondo in Manila to do research about Atang's sarsuwela, kundiman and clarifications on the different intrigues ("tsismis") that Atang lived during the heyday of her career as the queen of Tagalog sarsuwela and kundiman. Upon meeting Atang, Gia travels back in time through the sarsuwela (such as "Jugar con Fuego", "Dalagang Bukid" and "Ang Kiri") which Atang was part of and kundiman (such as "Bituing Marikit", "Nasaan Ka Irog?", "Ang Masayang Dalaga", and "Nabasag ang Banga") which she popularized.
"
Atang: isang dulang may musika
" is a play of memory. It explores the story of a woman who is the epitome of womanhood: daring but with a sense of mystery. "Atang: isang dulang may musika" is the 3rd offering of
Dulaang UP
for its 33rd theatre season. It is part of the two year celebration of the centenary of the University of the Philippines and the UP Sarsuwela Festival 2009. Joining the wonderful cast are Teroy Guzman, Greg de Leon, Ricky Ibe, Meynard Peñalosa, Mitoy Sta. Ana, Jacinta Remulla and Ms. Bituin Escalante as Katy de la Cruz. Joining Cortez and Quintos in the Artistic team are Von de Guzman (Musical Arranger and Original Scores), Sir Anril Tiatco (Dramaturg), Dexter Santos (Choreographer), Tuxqs Rutaquio (Scenic Designer and Costume Designer), Eric Pineda (Costume Designer), Luther Gumia (Lights Designer), Cholo Gino (Choral Master and Conductor), Winter David (Video Desinger), Arkel Mendoza (Sounds Designer), Paulo Santillan (Graphics Designer), and Voltaire de Jesus (Sound Engineer).
"Atang:isang dulang may musika" will be re-staging on January 28-February 8, 2009 at the Wilfrido Ma. Guerrero Theatre, 2nd Floor Palma Hall,. University of the Philippines, Diliman, Quezon City. For inquiries please contact Ms. Luz De Luna at 09228206224; 0917-6206224 or contact Dulaang UP office at 926-13-49; 433-7840; 981-8500 loc 2449 or you can email us at http://www.upd.edu.ph/~dup.