Andres KKK: Ang Buhay at Pag-Ibig ni Andres Bonifacio
posted on

Tue, 25 Nov 2008 12:00 AM
The Philippine Ballet Theatre is performing "
Andres KKK: Ang Buhay at Pag-Ibig ni Andres Bonifacio
" on
November 28, 29, 30 at CCP Main Theater.
The Philippine Ballet Theatre presents the passion of the Supremo against the backdrop of Philippine history. His tale, full of love, replete with the excitement of battle and touched with the anger of betrayal is told through masterful choreography and graceful dance.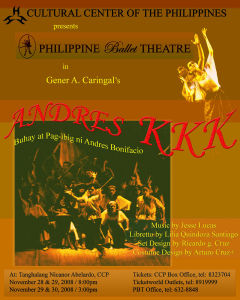 Specially created for he Centennial of the Philippine Revolution, this full length ballet promises an enriching and revitalized approach to the great proletarian hero's life and sacrifice. Choreographed by Gener Caringal with libretto by Lilia Quindoza Santiago and music by Jesse Lucas.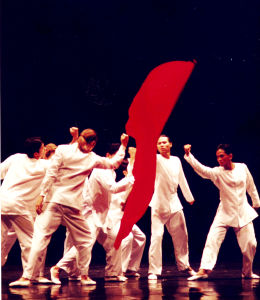 ANDRES KKK will be shown on November 28, 8 pm; November 29, 3 pm and 8 pm; and November 30 (National Heroes Day) at 3pm. Tickets are at P600, P500, P200 and P100. Please call the CCP Box Office 832-1125 or Ticket World 891-9999.