'Ang Pagong At Ang Matsing' Wins Best Musical Production
posted on

Tue, 18 Nov 2008 12:00 AM
In the last quarter of 2007, revered theater critic Amadis Ma. Guerrro, wrote this review, "Legitimate theater invaded the malls (SM Southmall Cinema) with Gantimpala Theater's "
Ang Pagong at ang Matsing
," directed by Tony Espejo and performed before a big crowd of grade school kids. It was an entertaining cavalcade of song, dance and humorous situations amidst a forest setting. The music of Jesse Lucas ends in a rousing call to preserve the environment."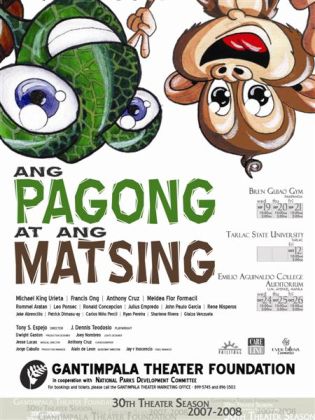 In the last quarter of 2008, Gantimpala Theater received its biggest surprise, "Ang Pagong at ang Matsing", written by multi-Palanca winner J. Dennis Teodosio, with music composed by award winning musical composer, Jesse Lucas.
Based on the comic strip drawn by national hero Dr. Jose Rizal, the children's musical was about a kind hearted turtle and an arrogant monkey who see a floating banana tree on the river. The banana tree became the bone of contention of the two.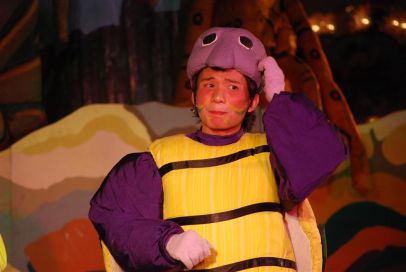 The artistic trio of Lucas, Teodosio and Espejo made the strip into a full length musical in Filipino that added additional characters such as animal side kicks and talking trees, laced with engaging tunes and lively choreography plus kids and the young-at-heart get their fill of lessons about friendship, fairness, forgiveness, sharing and love for the environment. Michael King Urieta played Pagong while Francis Ong (who also bagged an acting nomination) portrayed Matsing, with Meldea Flor Formacos as Suso, Anthony Cruz as Tarsier with Leo Ponseca (Punong Manga); Ronald Concepcion (Punong Acacia); John Paolo Garcia (Punong Bakawan); Rene Nisperos and Rommel Aratan (as the Kaputol ng Saging).
"Ang Pagong at ang Matsing" had successful performances in Subic, Pampanga, Tarlac, in SM Southmall, Raha Sulayman Park in Malate, EDSA Shangri-la Mall, and in the Concert at the Park Open Air Auditorium, inside historic Rizal Park.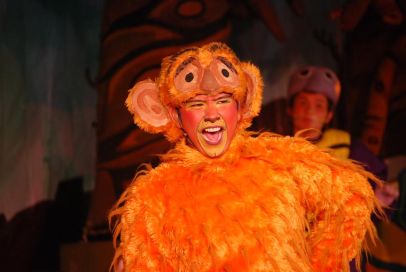 A jubilant Tony Espejo, artistic director says, "This recognition from the ALIW Awards is indeed a big surprise for Gantimpala Theater. After all, we were in competition with some of the best theater companies nowadays and the other nominated plays were also very excellent. Who would ever thought that our modest attempt to re-introduce to this generation the comic strip by our national hero Dr. Jose Rizal will give us this honor. I share this to all my cast, artistic and production staff, most especially to J. Dennis Teodosio who wrote the script and Jesse Lucas, who composed the music, and to every one who have watched and enjoyed it."
Gantimpala Theater's "Ang Pagong at ang Matsing " will be re-staged in February 2009 in time for the February Arts Month celebration.
For information, bookings, and queries about Ang Pagong at ang Matsing, and other Gantimpala Theater productions, call 899-5745/896-3503/474-51-98 or write to: gantimpalatheater.multiply.com or gantimpalatheater@yahoo.com.ph