Art Education In The Philippines
posted on

Wed, 16 Jul 2008 12:00 AM
In 1968, two of the country's creative minds merged their ideas and founded the
Philippine Art Educators Association
. They were
Brenda V. Fajardo, PhD.
and
Araceli Dans
, artists and educators and are both luminaries of art education in the country today. The two ladies laid the cornerstone in creating what has to become of our art education: a noble profession. The PAEA has now become what they have dreamed of. Presently, there are more than two hundred members from private and public schools and other institutions in the Philippines being supported by this association.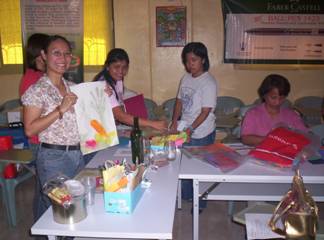 Joy Fulgencio, Art and Home Economics Area Coordinator of Saint Pedro Poveda College shows an artwork done by a teacher during a PAEA Cares art workshop at the Balagtas Central School, Balagtas, Bulacan.
PAEA, through the years, has conducted art workshops on different topics: art education, teaching methodologies, other art and crafts applications and techniques, and integration of creativity into the different subject areas. It has supported art educators through in-service sessions, trainings and workshops, membership meetings, newsletters, and the sharing of materials, ideas and resources. It has maintained connections with other organizations here and abroad through art exchanges and representations in international conferences. It has provided opportunities for cooperative study while discussing common problems and experiences related to the teaching of art.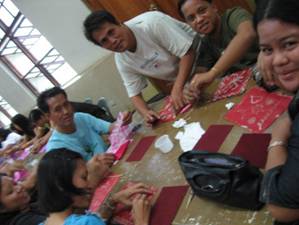 Elementary school teachers from a Vigan public school happily creates an artwork made of Japanese paper.
It is currently being represented by a set of officers and board of directors who are mostly in the teaching profession. This group of art educators transformed art education into a meaningful collaboration of arts and minds, their skills cultivated through values, mentorship and friendship.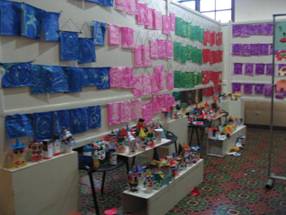 A beautiful exhibit of art papers displayed at the Vigan Culture and Trade Center created by public elementary school teachers from the City of Vigan.
PAEA, in order to strengthen its foundation, encourages membership from diverse domains: people who are engaged in multifarious interests in life but who has unquenched passion for art, culture and education; art educators who are currently involved in school at any level; teachers and students of varied discipline; cultural workers and practicing artists.
These are the people whose commonality is to be a part of the art education in the country and help it go forward, flourish and spring into something very new from its roots of rich background.
For information about PAEA, please visit their website: www.paea.com.ph or email them at mypaea@yahoogroups.com.