Cordillera Suite: Homage to Apo Ben
posted on

Mon, 26 Nov 2007 12:00 AM
The
Yuchengco Museum
pays tribute to National Artist
Benedicto "Bencab" Cabrera
with an exhibit tracing the inspiration he drew from and gave to his adopted art community in the Cordilleras. Entitled
Cordillera Suite: Homage to Apo Ben
, the exhibit focuses on painters, photographers, and multimedia artists from Bencab's circle. Also on view are 13 Bencab works inspired by old photographs of Cordillera peoples or made during the National Artist's 15-year stay in London. The exhibit is on view at the Yuchengco Museum's third floor galleries until January 16.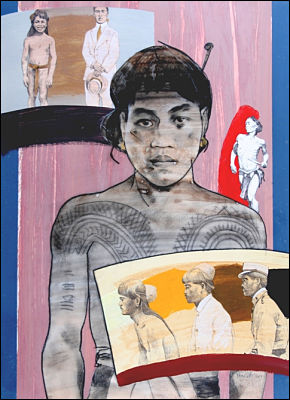 A major force of the Cordillera art community is National Artist for Visual Arts Bencab. After living in London and exhibiting widely in Europe and North America, he returned to the Philippines in 1986 and settled in Baguio, a quiet place with a pace slower than Manila and weather reminiscent of London.
Bencab immersed himself in the world of the northern mountains. "I have always been interested in the culture of the Cordilleras. I admire the art of the Ifugaos in particular, and have been collecting their wooden artifacts for over 30 years." Pieces from his collection of antique tabayag, or traditional lime containers, are on display at the museum. Also featured are images of tabayag taken by Cordillera resident Wig Tysmans for Bencab's book Tabayag: Lime Containers from the Cordilleras.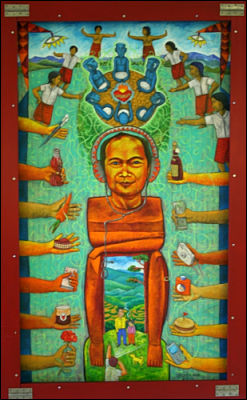 Bencab's international stature, contemporary style, and easygoing personality fueled the local art community to interaction. With other Baguio-based artists, Bencab helped established the Baguio Arts Guild in 1987 and Tam-awan Village in 1996. His involvement with the Cordillera art community made him see the talents of impressive young artists whom he later mentored—Ged Alangui, John Frank Sabado, Jojo Elmeda, Jordan Mang-osan, Leonard Aguinaldo, and Rishab. New large-format works especially made by the six artists for the exhibit are on show as well.
From Bencab works and personal collections to multimedia tributes and contemporary Cordilleran art, Cordillera Suite: Homage to Apo Ben illustrates how the region's art has evolved and highlights the guiding force that is Bencab.
The Yuchengco Museum is located at RCBC Plaza, Corner Ayala & Sen. Gil J. Puyat Avenues, Makati City. Museum hours are Monday to Saturday, 10 a.m. to 6 p.m. For more information, call 889-1234 or visit www.yuchengcomuseum.org.
I'm looking for Yuchengco Museum.