Palanca Awards confers Gawad Dangal ng Lahi to Senator Mar Roxas
posted on

Tue, 18 Sep 2007 12:00 AM
Guest of honor and speaker
Senator Mar Roxas
was conferred with the
Palanca Awards Gawad Dangal ng Lahi
by CP Group Chairman Carlos Palanca III, Palanca Foundation Director General Sylvia Palanca-Quirino and Deputy Director General Christine Quirino-Pacheco for serving as an exemplary leader and role model to the Filipino.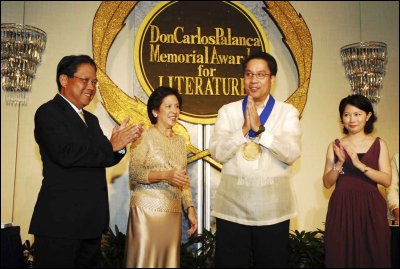 Sen. Roxas applauded all the awardees of the 57th Carlos Palanca Memorial Awards for Literature for standing at the vanguard of the nation by embodying the very best that the Filipino can be. The cream of the crop in creative writing gathered for this annual celebration recently held at the Peninsula Manila in Makati City. The revered award-giving body honored 53 of the best written works in 18 categories wherein half of the awardees are first-time winners.
Established in 1950 to honor Don Carlos Palanca, Sr., the awards aims to serve as an incentive for Filipino writers to craft their outstanding literary works.