Back-to-School, Back-to-'High School Musical'
posted on

Fri, 15 Jun 2007 12:00 AM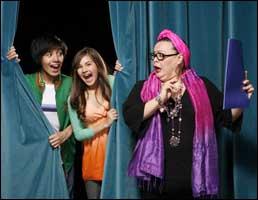 As thousands of school-aged children troop back to their classrooms this month, many find company with the young cast of "
High School Musical On Stage
," who are going back to school as well in real life. And with the staging of the ever-popular Disney TV movie, they have to juggle between classes and rehearsals.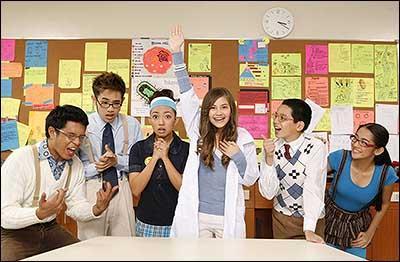 Cheska Ortega, center, as Gabriella Montez with the cast of
"High School Musical On Stage"
Gabriella Montez
, the female lead character of the musical, played by pretty
Cheska Ortega
, just transferred schools. Despite her many achievements in her past school, Gabriella is wary of her new environment. But Cheska, 14, an incoming sophomore this school year, understands what the role demands from her. "I used to be extremely shy. When I was young, I did not talk in school for about three months. I was conscious all the time. When I was in grade 2, I attended a theater workshop. That sort of 'fixed' me. Now, when I perform, I still get nervous all the time. My nervousness fades once I start to act and sing on stage."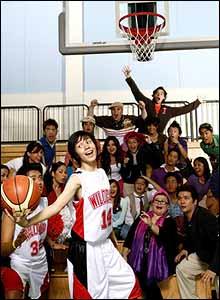 Troy Bolton
, the lead male character, is played by young singing champ,
Sam Concepcion
, 14. Troy is East High's basketball champ who found out about his secret passion for singing. He became torn between his newfound love and basketball championships. Will he give up one for the other? Sam, who is extra-busy these days with TV guestings, soap opera appearances, product endorsements and live performances, has his education a top priority. "I will still pursue my high school and of course, college. I am determined to give time for school, even if it means bringing schoolwork during rehearsals and tapings." Sam manages by being home schooled.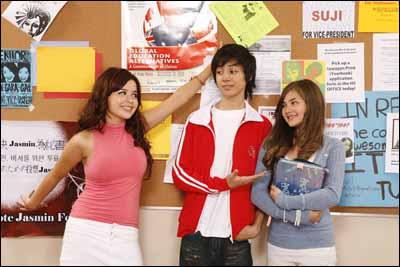 Alex Godinez (Sharpay Evans), Sam Concepcion (Troy Bolton) and Cheska Ortega (Gabriella Montez)
Sharpay Evans
, the girl-to-watch-out-for, is played by alternate
Athena Tibi
, 18, an incoming third year Management major at the University of Asia and the Pacific. Sharpay is arrogant about her performing skills. Thus, she would insist for things to happen her way. She only bonds with her twin brother, Ryan. But Athena, in real life, enjoys the company of her friends in school. "I love our study groups, I am thankful for my friends for supporting me. At first, I have difficulty dealing with math subjects, but with their help, I am able to manage."
Carl Andre Castro
, a brainiac in the show, is played by
Ken Magdangal
,16. Just like Carl, Ken is considered a bright boy, having bagged the President Gloria Macapagal-Arroyo Outstanding Excellence in Technology and Entrepreneurship Award in high school. He is on his way to his Nursing class this school year at the University of Sto. Tomas, as he prepares to take up Medicine in the future. But brainiac or not, Ken believes that one can learn not only in books. "In school, you also learn things by mingling with other people. School prepares you for life by making you more aware of yourself and others."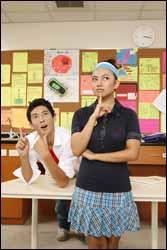 Chad Danforth
, Troy's best bud and whose heart is into basketball, is played by
Seve Ching
, 15. He opposed Troy's musical inclination at the start. He believes that good basketball players are to be found in the court, not in the theater. But seeing his best friend struggles made him realize he could be wrong. That kind of epiphany is not new to Seve. "There was this one time that I was going through a little bit of trouble. My English teacher was very considerate and would always push deadlines for me. I remember that she always said that, 'I know you are gonna make a difference in the world and it is a shame that you have a fallout during your academic year.' So I pushed up my grades till the end because of her."
STAGES and Trumpets Playshop's production of Disney's "High School Musical On Stage" runs at Meralco Theater weekends of June 23 to July 15. For tickets, call Ticketworld at 891-9999 or STAGES at 818-1111 loc 209 or 225.