Tiangge Check: Divisoria
posted on

Fri, 23 Dec 2005 12:00 AM
For the longest time, Divisoria has been the mecca of value shopping. In the 1800s, it used to be the nest of Chinese merchants who were barred from selling their goods in Intramuros. So they set up shop outside the walled city instead, now known as Binondo, nestled in the center of Manila.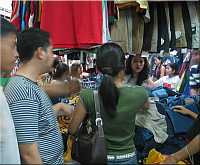 Back in the day, it was known for narrow alleys, filthy streets and second-rate goods. Now, it is more popular than ever as a friendlier shopping area that hasn't lost its main attraction through the years: best value for the peso. It even goes by the nickname "Divi," as with "Bora" for Boracay.
Because it is big, busy, and always buzzing with activity, it is easy to get lost in with the sheer number of merchants and their merchandise. Go here if you have time to spare and you're game for some walking. Divisoria's main street is Juan Luna St.
At the Divisoria Mall where the walkways are still narrow but nevertheless breathable, you will find its three floors and a basement packed with everything you could possibly need: from the basics of clothing, shoes, and personal effects to the little whatnots you would want upon first seeing them. In the first floor you can get stationery, stickers, invitations, wallets, calculators, pens, umbrellas, flashlights, kitchen utensils, gardening tools, and the littlest toys to fill a loot bag which you will find more of at the basement, where the wet market also is.
The second floor has stalls carrying garments, bags, shoes, grooming products, gift wrappers. The Food Court makes up the third floor. Stalls outside have pricier items but you can always haggle. Go to Tabora St. if you're looking for ribbons, beads, gift wrappers, bottles, strings, sand, crystals, paint, and Christmas knicknacks. You could park your car at the basement of Juan Luna Plaza or at the nearby
168 Mall
.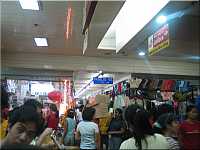 The secret to getting the most for your purple buck is to buy in bulk. You can haggle until you lose your voice. Make sure to come armed with cash (credit cards are useless here), a keenness to fend off pickpockets, lots of hours to kill, energy to spend, and a grim determination to survive the chaotic human traffic. Perhaps it's best to go with an assistant, a tour guide, towelettes or hankies or wet wipes, closed shoes, a full stomach and an empty bladder (unless you want to see how long the lines are at the comfort rooms) for your Divi adventure.
Check out other tiangges:

The Greenhills Shopping Center is an entertainment complex that is more than a tiangge haven.

Tiendesitas is the newest destination offering Pinoy's best every day.

St. Francis Square reopens its doors to offer convenient shopping at low costs.