Roller coaster story leads to derailment
posted on

Sun, 18 Dec 2005 12:00 AM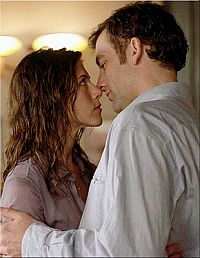 Buena Vista International's new erotic thriller "Derailed" explores the repercussions of making one terrible mistake that can change someone's life entirely. As star Jennifer Aniston says, "If only he had made his train. It's a great moment."
In the film, family man Charles (Clive Owen) meets businesswoman Lucinda (Aniston) on the commuter train to Chicago. Before they know it, flirtation quickly escalates into murder and blackmail.
Producer Lorenzo di Bonaventura read James Siegel's book
Derailed
and couldn't put it down He says it "felt immediately like a movie. " Once he learned that the rights were still available, he went after it. The story spoke to him: "All of us have made mistakes in our lives--all of us have made a bad decision at one point or another, and sometimes it's a small decision so you don't anticipate the ramifications. I think in Charles' case, life has dealt him a couple of unfair blows, and he's at a vulnerable moment in his life. Unfortunately for him, this vulnerability allows him to make the mistake."
The novel also enamored screenwriter Stuart Beattie. "I read it in one night and thought it was a great Hitchcockian story." He also really liked the book's central character. "He is such a sympathetic guy. He made a big mistake, but he was paying for it, and paying for it. I think if I were in his shoes, I would do the exact same things, making the same mistakes, getting deeper and deeper into a hole just as Charles does. I just thought it was terrific. `Derailed' is everything a good thriller should be."
Beattie immediately wanted to be a part of it. "I don't see those Hitchcock-type films being made anymore. Films like 'North by Northwest' where ordinary guys get caught up in extraordinary situations and the plot has fantastic twists and turns."
Because the film has so many twists and turns, Beattie had to be careful not to lose his audience. "It's really a matter of watching every line you write, and making sure that it can be read in a completely different way once you know what's really going on. So, when you see the film the first time, it'll be one movie, and I hope when you see the film a second time, it will be a completely different movie. That is part of what's so great about this story--being able to do that."
The actors were all drawn to the power of the script. Aniston called it a "roller coaster." She says "I read it pretty quickly. There was so much that you didn't see coming. It was beautifully written."
Clive Owen explains, "Everything that happens in this movie is one surprise after another. It's not going to be easy for the audience to figure it out. Sometimes you go to movies and you watch 15 or 20 minutes, and you know what's gonna happen at the end. That's not gonna happen here."
Opening soon across the Philippines, "Derailed" is distributed by Buena Vista International through Columbia Pictures.