A touching tale of friendship
posted on

Wed, 27 Jul 2005 12:00 AM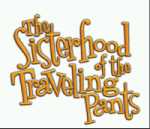 In Warner Bros.' new teen drama "The Sisterhood of the Traveling Pants," four friends are introduced as babies who were born to mothers who met in a prenatal aerobics class. They grew up together and developed an enduring bond despite their distinctly different emerging personalities. Now, after years of sharing every triumph and loss, every wild idea and secret fear with the laughter and love of true friends, these four young women couldn't be closer...except that they're about to be separated as their lives take them in different directions for the first time.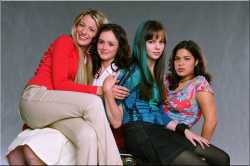 Introspective and occasionally volatile Carmen (America Ferrera) is looking forward to spending quality time with her out-of-state dad, whom she hasn't seen much since he divorced her mother years ago; super-confident star athlete Bridget (Blake Lively) is heading for a soccer camp in Mexico; soft-spoken Lena (Alexis Bledel of TV's "Gilmore Girls"), a gifted artist as beautiful as her drawings, is set to discover her heritage--and an unexpected romance--on a trip to her grandparents' home in Greece; and sharp-witted rebel Tibby (Amber Tamblyn of TV's "Joan of Arcadeia") will reluctantly remain in town, stocking shelves at the local discount store while working on her pet project, a video "suckumentary" to expose what she sees as the banality of everyday life.
On a shopping trip together the day before their paths diverge, the friends find a pair of thrift-shop jeans that amazingly fits and flatters each one of them perfectly, even though they are four young women of very different shapes and sizes. It seems these pants are meant for sharing and that gives Carmen, Bridget, Lena and Tibby a wonderful idea. They decide to use the pants as a way of keeping in touch during the months ahead, each one wearing them for a week to see what luck they bring before mailing them on to the next.
In this unique way, though miles apart, the four still experience the challenges and surprises of life as they always have--together--in a summer they'll never forget.
A New York Times best-seller for more than a year after its 2001 publication,
The Sisterhood of the Traveling Pants
became a national phenomenon, earning high praise from critics as well as readers.
"What struck me most," director Ken Kwapis explains, "was that the four stories were so different and the characters such different types and yet I was able to identify with them equally. I knew this should be a film for which every member of the audience sees themselves reflected not in a single character but in several or maybe all of them. There are no villains here, there are only people; people who make good or bad choices and sometimes screw up, and these are choices that I've made and that everyone in the audience has made. "Each of us has known shyness like Lena or dreamt of being impulsive like Bridget. Each of us has a sarcastic, rebellious side, like Tibby and would like to be as passionate and expressive as Carmen. Ultimately, I wanted to create the worlds these young women inhabit so we could eavesdrop on their lives," concludes Kwapis.