The Next Revolution
posted on

Mon, 24 Nov 2008 12:00 AM
Media is power. A single, vital image---when ingrained powerfully enough----translates into a message which lasts a lifetime. Ideas create films and shows; films and shows create ideologies, which become tiny revolutions waiting to happen Where reality fails to depict itself---or rather, when people stop paying attention, art does---often with much potency and more urgency.

The Active Vista film festival works under this conviction: a mission to revolutionize values through the powerful medium of cinema. A first of its kind, Active Vista goes beyond mere entertainment, mere video machinery.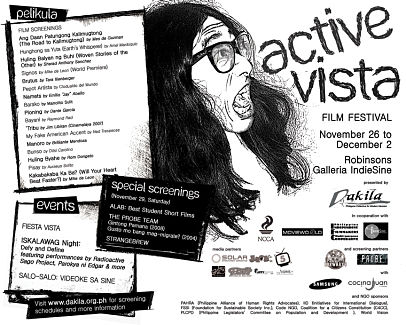 Active Vista recognizes the country's longstanding struggle for change, and aims to awaken a progressive spirit in our people---- if not a social conscience, at least a social consciousness. It's a little ambitious, but there is just enough genius in its roster of films to believe it can work.
The weeklong festival will be held at the
Robinson's Galleria IndieSine
from
November 26 to December 2, 2008
, with each day of the week devoted to a specific advocacy, in partnership with a NGO: Filipino Heroism, Culture and National Identity (Kasaysayan ng Kagitingan), Justice, Gender and Human Rights, and Peace (Katuwiran, Karapatan at Kapayapaan), Environment (Kalikasan), Education, Children and Youth (Kabataan Kinabukasan)and Social Progress – Poverty, Hunger, Health, Debt and Issues of Marginalized Sectors of Society (Kaunlaran). Each day, from 1 pm onwards, Indiesine will be showing classic, award-winning, or critically-acclaimed films--- many of them independent---that will leave a message and stir the hopeful Filipino spirit.
To be featured in the festival are Mike de Leon's never been shown documentary on the Martial Law, Signos and his mind-bending satire, Kakabakaba Ka Ba, Dante Garcia's Oscar nominee Ploning and recent winners and entries in the Cinemalaya Film Festival, including Pepot Artista, Pisay, Tribu and Brutus. In addition, there will be a special screening of the Best of Probe Team episodes, Raymond Red's Bayani, the selected Ten Best Student Short Films and a marathon showing of cult tv hit, Strangebrew. After and in between screenings, there will be forums, live music performances and interactions with the filmmakers.
The Active Vista is a project of
DAKILA
– Philippine Collective for Modern Heroism, in cooperation with the National Commission on Culture and Arts (NCCA) and The Philippine Independent Filmmakers Multipurpose Cooperative (IFC).
More than anything, Dakila believes that change can happen---one mind, one step and possibly, one viewer at a time.
Support the Active Vista Film Festival.
Active Vista Film Festival runs from November 26 to December 2 at the Robinsons Galleria IndieSine. Tickets are priced P100 per screening. For more details and a complete listing of the screening schedules/ activities, visit www.dakila.org.ph and www.dakilacollective.multiply.com, or or e-mail activevista.filmfestival@yahoo.com.


Written by Karla Vizcarra.