James Marsden Fits In '27 Dresses'
posted on

Tue, 1 Jan 2008 12:00 AM
Best known for his Cyclops role in 'X-Men' movies,
James Marsden
stars anew as Kevin, an ambitious reporter in the upcoming romantic comedy '
27 Dresses
' opposite Katherine Heigl.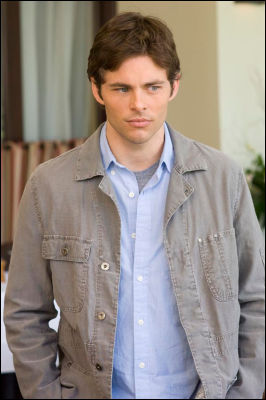 In '27 Dresses,' Jane has always been good at taking care of others, but not so much in looking after herself. Her entire life has been about making people happy – and she has a closet full of 27 bridesmaid dresses to prove it. One memorable evening, Jane manages to shuttle between wedding receptions in Manhattan and Brooklyn, a feat witnessed by Kevin (James Marsden), a newspaper reporter who realizes that a story about this wedding junkie is his ticket off the newspaper's bridal beat. Jane finds Kevin's cynicism counter to everything she holds dear – namely weddings, and the two lock horns.
Director Fletcher cast Marsden after working with him in "Hairspray," on which Fletcher was an associate choreographer and second unit director, and Marsden played the Baltimore television-dance-show host Corny Collins. She notes the volatile Jane-Kevin relationship is a classic "rom-com" situation of opposites repelling then attracting one another. "You can understand why Jane resists Kevin," says Fletcher. "He's sarcastic and cranky, and he nags and constantly bugs her. His protection is his wit and sarcasm, but he's charming, charismatic and funny."
Adds scriptwriter McKenna: "There is, however, a trait both characters share, for Jane and Kevin are observers – he by profession – and in their own ways both have chosen to sit on the sidelines."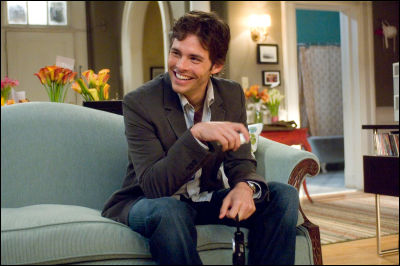 Marsden, was eager to tackle a romantic leading man part. "I usually play the guy who gets the short end of the stick in, so it is nice when I read '27 Dresses' and realized, 'They're considering me for the guy who may actually get the girl!'"
Recently seen in the box-office hit 'Enchanted,' Marsden's diverse film credits include Cyclops in the "X-Men" trilogy, "Superman Returns," the Nick Cassavetes romantic drama "The Notebook," and "The Alibi." Additional film credits include "Disturbing Behavior," "10th and Wolf," "24th Day," "Sugar and Spice" and "Interstate 60." His notable television roles include Glen Floy on the final season of the Emmy winning, David E. Kelley series "Ally McBeal."
"27 Dresses" opens January 30 from 20th Century Fox to be distributed by Warner Bros.
I'm looking for 27 Dresses.