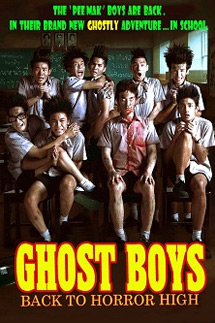 Thai film Ghost Boys: Return to Horror High was originally known in English as Make Me Shudder. Its sequel, Make Me Shudder 2, has already been shown in our cinemas as Pee Mak 2, the distributors apparently hoping to piggyback off the success of Pee Mak even though the movie has nothing to do with that other film. That sequel wasn't very good, and it turns out that this first movie is just as bad. Touted as a horror comedy, the film is unable to achieve either effect very well.
Nick (Kunatip Pinpradab) likes to take his classmates into spooky places, setting up prank scares that leave everyone screaming. One night, he takes six of his classmates into a building on their campus that has supposedly been close because it's the site of a student suicide. He and his two best friends James (Puvadol Vechwongsah)and Bew (Kittipat Samarntragulchai) have planned a big prank for the other participants, but they get a lot more than they bargained for. There's are real ghosts in the building, and the students get trapped inside.
The movie is meant to be scary and funny, but it is neither. The comedy side of this film is hindered by its inability to just deliver a punchline. The humor is pretty basic, the jokes mostly involving how scared these boys get in these terrible situations. But the film takes these basic setups and stretches them out for eons, robbing them of any ability to surprise. As for scares, the film struggles through a reliance on really poor computer generated effects. And then there's the fact that nothing dangerous really seems to happen throughout the movie, the characters never placed in a situation that requires ant real worry.
It's all very badly constructed as well. The film basically introduces a story halfway through the movie, filling out a backstory for the ghosts. The movie has it all wrong. It tries to give these spirits an emotional journey, while leaving the main kids with pretty much nothing to do. Despite ostensibly being the main characters, he boys are basically observers in this film, given hardly any power at all to affect the outcome of the story. That's left to the ghosts, and that's a really strange choice. Why and how are we meant to even care about these spirits, when we're spending most of our time with the boys?
The main characters are so underwritten that they're pretty much interchangeable. It's terribly difficult to tell some of these characters apart, none of them really doing much that would distinguish them from the others. And again, the boys aren't really given much to do beyond looking scared. Kunatip Pinpradab might be a really talented actor, but it's hard to tell when all he's doing is going bug-eyed and screaming.
The duplicity involved in promoting Make Me Shudder 2 carries over to the promotion of Ghost Boys: Return to Horror High, which still proudly uses the title 'Pee Mak 2' in advertising the connection to the previously screened film. But even if this movie were promoted honestly, we'd still be left with a subpar horror comedy that should only be forgotten.
My Rating: