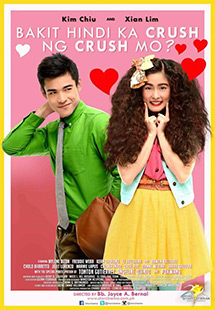 Bakit Hindi Ka Crush Ng Crush Mo? is based on the book by Ramon Bautista, which compiles the markedly pragmatic advice about breakups that he dealt out to brokenhearted question-askers on his Formspring account. The book makes the case that there is more to life than love, which is an outlook that is inherently incompatible with a Star Cinema romantic comedy. Though the film features a stellar comedic performance from Kim Chiu, and has clever subversive touches all throughout, the final product feels confused and conflicted, the story just unable to follow its own source's advice.

The film begins with Sandy (Kim Chiu) getting dumped by her boyfriend on their anniversary. Sandy takes this very hard, and falls into a deep depression. Meanwhile, Alex (Xian Lim) returns to the Philippines after a stint in the US, where he was set to marry his girlfriend. His grandfather (Freddie Webb) tasks him with revitalizing their family's failing record label. Sandy happens to be the most invaluable employee of this record label, but her distressed state gets her fired on Alex's first day. Alex hires her back, making the deal that he's going to teach her how to get over her boyfriend and find someone better.

The film is most interesting when it actually keeps to the pragmatic nature of the book. The film extends the idea of breakups being survivable to other aspects of life, delivering a story that doesn't always demand success from its characters. It's a refreshing outlook that just doesn't show up in most of these films. But that isn't all that makes it into the picture. There are demands to this genre, and the movie ends up conforming to these demands even if it goes against its own fundamental philosophy.

It is, in the end, a romantic movie, and so even after all the talk about how people should be able to move on from people that hurt them, the movie contrives a singular act that makes everything suddenly okay. And though the film talks lip service about how people shouldn't have to change, a lot of focus is given to the transformation of the main character's appearance. It's even more problematic because the character says more than once that she's uncomfortable with the way she's dressed, but she keeps wearing that stuff seemingly because a guy told her to. The relationship feels really underdeveloped and at times toxic. If someone had told this story to Bautista and asked what he or she should do, it's likely that person would be told to just find someone else.

If one can look past the central incompatibility, the movie can be pretty funny at points. Joyce Bernal's direction is quick and zippy, and a little more aware of just how silly the romance can be. Kim Chiu is revealed to be a legitimate comedic talent, the young actress committing fully to her character's lack of poise, and becoming more endearing because of it. Xian Lim is charming enough, but he's saddled with a role that doesn't really make much sense. Ramon Bautista himself shows up to dispense his unique brand of advice, and he makes the most out of the time he's given.

Bakit Hindi Ka Crush Ng Crush Mo? just doesn't work. There's a lot of good material in it, and a formidable performance from its lead actress, but there is core incompatibility between the source and the kind of movie it is. It just feels like a relationship that wasn't meant to work out, the two sides just not seeing eye-to-eye about core values. In the end, the whole thing just doesn't make any sense, its characters beholden to two different outlooks. They really should have broken up before it got to this point. As a wise man once said, there's more to life than love.
My Rating: