Jollibee Delivery: Bringing Great-tasting Food Right at Your Doorstep
posted on

Tue, 31 Mar 2009 12:00 AM
Can't get enough of your favorite
Jollibee
langhap-sarap goodness in a day? Thanks to continuous improvements to the
Jollibee Express Delivery Service (JEDS)
, you can now satisfy that craving 24 hours a day, seven days a week!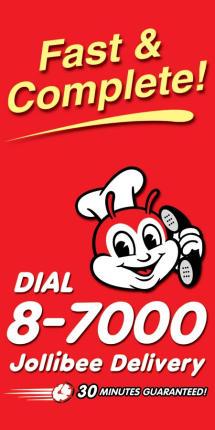 Now you wouldn't have to worry about saving up on gas, or waiting hours and hours in line just to park your car and enjoy a sumptuous lunch or dinner with family and friends outside. With Jollibee's wide array of choices, on-time and quality delivery service, you can enjoy endless hours of bonding moments in the comfort of your home.
From Jollibee Yum burgers, Chicken Joy, macaroni soup, spaghetti or palabok, even midnight breakfast treats- Jollibee can deliver your order right at your doorstep 24/7 in just 30minutes guaranteed!
For whatever's on the menu, you can get it anytime, any day, anywhere with Jollibee Express Delivery Service.
The improved thermal delivery bags first launched in 2006 made it possible for your favorite Jollibee products to be delivered fresh, hot and fast!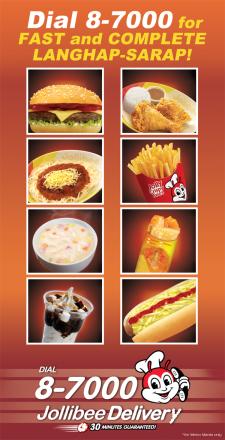 Indeed, Jollibee finds ways and makes them happen for you to share langhap-sarap goodness and bonding moments with family and friends with an efficient and affordable delivery service you wouldn't want to miss!
Credit card payments are also now being accepted in many stores, providing customers particularly with bulk orders a more efficient and flexible way to pay.
Apart from all of these, Jollibee made it easier for those in Manila and in the provinces to order food for delivery. They just have to dial 8-7000 in Metro Manila, 878-7000 in Cavite, 888-7000 in Pampanga and 238-7000 in Cebu.
With this single-number system, searching all over the phonebook is unnecessary when hankering for some Jollibee delights.
Jollibee Express Delivery Service definitely caters to the needs and concerns of Jollibee patrons, providing efficient and effective means of delivering their favorite Jollibee products, anytime, anywhere, 24/7.