A Jollibee Kids Party to Remember for Atasha and Andres with a Jollitown Theme
posted on

Mon, 22 Sep 2008 12:00 AM
Normal isn't an adjective frequently used to describe celebrity families. Indeed, one only has to open the television or read the papers to prove this: the extravagant lifestyles, jet-setting escapades and various misadventures of local tinseltown's dynasties that are all meticulously documented in the press. However, as the Muhlachs prove, not all showbiz families live in such an ostentatious manner.
"At home, we're just like any other family," says Aga Muhlach, multi-awarded actor and proud father of adorable twins who are undoubtedly a product of very good genes. "Charlene and I spend most of our time with the kids, Atasha and Andres. We do normal family stuff: we play around, we go out and, sometimes, we take out-of-town trips."
To further prove just how grounded their family is, Aga and Charlene share that when celebrating the twins' birthday, they usually opt for more intimate affairs rather than grand festivities. However, this year's celebrations could prove to be an exception. With Atasha and Andres turning seven, the couple is thinking of throwing a much bigger bash for the twins. Although plans have yet to be finalized, the couple is sure of one thing: the twins will have a
Jollibee
Kids Party
.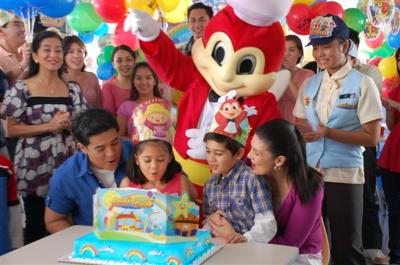 "Since they were born, they've always had a Jollibee party for their birthday. It just wouldn't be complete without one" notes Charlene. "Apart from genuinely loving the food, they also feel very much at ease at Jollibee—it's already like a second home to them."
Coinciding with this milestone in the Muhlach family's life, Jollibee also celebrates one of its own: the launch of its new
Jollitown Party Theme
. Based on
Jollitown
, a hit children's television series on GMA7 which features the Jollibee and the Jolli Friends and their exciting magical adventures, this new party theme is perfect for children who want their birthdays to be a fun and memorable experience. As with the other Jollibee Kids Party themes such as the Bratz and Justice League animated series, the Jollitown Party Theme combines langhap sarap food, superior party amenities and the presence of the popular mascots to make organizing birthday parties convenient and hassle-free for parents. To date, there are a total of 307 Jollibee Kids Party stores nationwide making it more accessible to many parents like Aga and Charlene who want a truly enjoyable party for their kids.
As Gold F. Tantoco, VP for Jollibee Marketing said, "With every Jollibee Kids party, we promise a delightful and memorable party experience for both the parents and the child.
Dahil dito sa
Jollibee
talagang pinakamasaya ang
party!"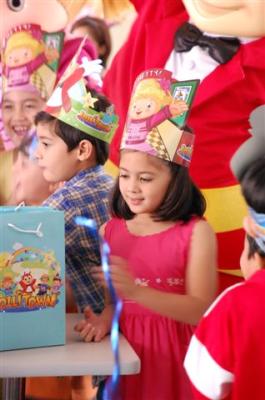 To help launch the Jollitown Party Theme, Aga and Charlene recently shot a television commercial together with Atasha and Andres. The twins' participation made the occasion into a family affair and, as Aga notes, reflects how Jollibee has already become part of their family.
"I've been with the brand, for such a long time now,
simula nung binata pa lang ako hanggang sa nag-asawa na ako at nagka-anak
," says Aga. "I've celebrated lots of important occasions with Jollibee and now my kids are starting to do the same. It's really only natural that Atasha and Andres celebrate their seventh birthday with Jollibee."