Paggunita Sa Araw Ng Kalayaan
posted on

Fri, 13 Jun 2008 12:00 AM
        SM SUPERMALLS, the country's premier venue for shopping, dining and entertainment, joined the whole nation in commemorating the 110th anniversary of Philippine independence. SM Supermalls all over the Philippines had a simultaneous flag raising ceremony yesterday, June 12, at precisely 9:45am.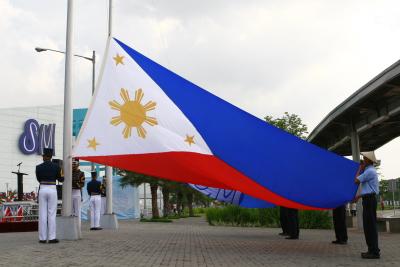 Mall employees, as well as those of tenants and affiliates (SM Department Store, SM Supermarket, SM Hypermarket, SM Cinema, SM Foodcourt, Surplus Shop, Sports Central, Our Home, Toy Kingdom, Ace Hardware and Kultura) as well as representatives from local governments assembled at the main entrance of each of the 31 SM Supermalls in Luzon, Visayas and Mindanao to sing the Philippine national anthem and to honor the national flag. This phenomenal feat of simultaneous nationwide commemoration of the country's independence was the first ever to happen in the history of SM Supermalls.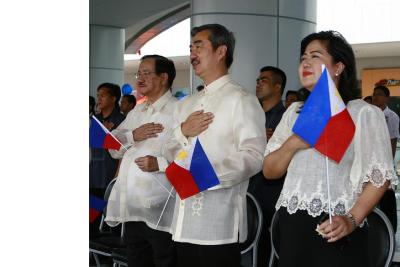 At the Mall of Asia, Pasay City Mayor Peewee Trinidad led the flag raising ceremonies with the Coro Tomasino singing the national anthem in the background. At SM Megamall, Mayor Benhur Abalos graced the occasion and led the flag raising accompanied by the UST Wind Orchestra. At SM North Edsa, the country's first supermall, the UST Brass Band and Kundiman Singers filled the air with patriotic tunes as Quezon City Councilor Ariel Inton led the hoisting of the Philippine flag. In all SM branches nationwide, marching bands and cadet corps paraded to make the celebration more festive. The nationwide SM Independence Day celebration gathered over 20,000 people across the nation, waving the Philippine flag. To cap the event, red, white and blue balloons were released to give honor to the heroes who sacrificed their lives for our nation's freedom 110 years ago.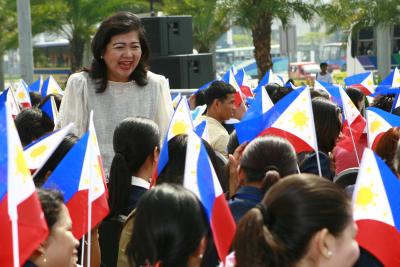 SM Supermalls nationwide have been celebrating the 110th anniversary of Philippine Independence throughout the week by way of cultural performances and live dioramas that bring our history and Filipino heroes to life. Youth concerts and musical tributes to legendary Filipino composers are the highlights of Kantahan Kalayaan. Sayaw Malaya, a showcase of various forms of Philippine Dance, celebrates grace and creativity that is innately Filipino. SM Mall of Asia has been celebrating this momentous occasion in our history with a series of exhibits, shows, and performances of world-class caliber such Harana by the Philippine Opera Company and Darangen ni Bantugen, a Maranao epic brought to life by the Philippine Ballet Theater. SM Supermalls is proud to celebrate our Philippine Independence with the rest of the country.