Get sporty in the city
posted on Fri, 7 Oct 2005 12:00 AM

With the sembreak at hand, people must be thinking of ways to unwind. Visions of bronzed bodies baking under the sun at the beach must be tugging at your daydreams. But while others can't wait to hit the sand, some just want to stay on concrete--the city, that is.

For those who would rather be city-bound without being confined in the corners of their home watching lame TV show after show, there are novel sports pursuits to be taken up in the city. You won't have to go out-of-town to work those muscles or settle for conventional sports that all end with "ball." Even the none too inclined in sports can pursue these as simple weekend activities. Here're what to do and where to go to be a little bit more sporty this break:

Hit the wall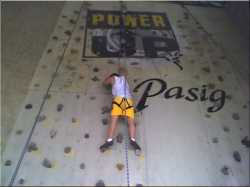 There are no jaw-dropping vistas surrounding you or cool air to greet you at the peak. There is no mountain, to begin with--there is only a wall. But wall climbing can prove to be just as strenuous and rewarding at the same time. Because here, it's not lonely at the top. You can get the same kind of high when you finish the climb.

Wall climbing is not simply taking a ladder nor is it like scaling the wall a la Spiderman who makes it look easy (but he does have handy web slings). There is a route for the climb as defined by bolt-on holds or chalk marks on the rock. The first order of the day is to visualize one's way up the wall, and it's not just following a hand sequence, according to Joey Cuerdo, a national climbing team coach. There's a lot of footwork, twisting, and flagging involved. If on the way up you slip and panic sets in, it impedes your movement. If you fall altogether, the drop won't be pretty. Remember how Drew Barrymore dropped her friend in The Perfect Catch? Climbers are said to be powerful people because they need a good arm, a good eye, and of course good feet to win the struggle on the way up. So climb up to conquer that wall and be powerful!

Wall climbing is best done at the very first indoor climbing facility in Metro Manila, Power Up. It's celebrating its 11th anniversary this October so there are a host of promos to avail of.

If there is one sports activity inherent in every one of us, it is said to be swimming. Just think: we were mired in amniotic fluid as fetuses for nine months at most. Some even claim it is best to teach a child how to swim in his/her earliest years, going so far as saying just throw the infant into the water and s/he'll learn to tread water in a snap. But for those who lost this "latent" ability as soon as the doctor spanked their bottoms when they came out of the womb or who were mercifully not forced to learn by nearly drowning and never learned until they've hit adulthood, there is hope yet.

There's a swimming program called Adult Fitness Swimming or AFS for short. It's designed to suit a beginner's individual needs and can be taken up for fun, fitness or sport. There are various levels within the program so there should be something for everyone, right from an adult who only wants to learn how to swim or make his/her stroke efficient, to the person who can only do breast strokes, to the serious fitness or masters swimmer or triathlete. Some concepts incorporated into the program are taken directly from the gym, like doing a good warmup, building one's heart rate up and then cooling down and stretching out. By the end of it, you should be able to swim one length of the pool using freestyle, backstroke, breatstroke and butterfly.

The AFS has four phases (Swim & Relax, Form & Fitness, Swim Like A Pro, Swim & Compete), each one developing into a more rigid physical activity as the swimmer sees it fit. From a regular fitness program to performance swimming, AFS offers a swimming routine that is a product of one's unique and distinct choice. This program is open to 19-year-olds and above who are interested in staying fit through aquatic activities.

The program is offered by the Bert Lozada Swim School for those who want to continue their fitness regimen, improve their strokes, harness their skill in the water, or plainly have fun.

Toss that hard disc


Ask Geoff Eigenmann how he came to be a matinee idol and he'll probably credit his European lineage, but ask him how he lost extra poundage before he went on to become a showbiz star and he'll count ultimate frisbee as one reason.

Ultimate is a non-contact team sport that feels a little bit of the following: soccer, basketball, American football and netball. There are no special gear needed to play it; all you need are a wide open space and a flying disc (frisbee in layman's terms) to toss around.

It is played by two teams, each of which is comprised of seven people: four males, three females. The goal is to pass the disc from member to member until it comes to the member in the endzone of the other team. An endzone is a goal-scoring area at opposite ends of the field where they are playing (30 yards wide, 70 yards long). It is not like basketball, though, where members can run while dribbling; here, when the disc is passed on to you, you must come to a halt and find another member to pass it to. There are no referees for the game; the players are expected to submit to a code of conduct called the "Spirit of the Game."

Mixing the best features of aforementioned sports, Ultimate requires speed, stamina, and agility. It is the Philippine Ultimate Association (PUA) that forms leagues, gives free clinics for beginners, conducts training exercises--even parties--for Ultimate players. They hold Beginners' Night for first-timers and newbies to learn the basics of throwing and catching; a Hard Core Night for advanced players wanting to improve their game; and a Regular Pick-Up for everyone where the games are more casual and experienced Ultimate enthusiasts may play simply for fun.

Venues for ultimate frisbee are at the Urdaneta Park in Urdaneta Village, Makati City; Cuenca Park in Ayala Alabang Village, Muntinlupa; near the Pier One Bar and Grill in The Fort, Taguig; and the Sunken Garden in UP Diliman, Quezon City.

For the ultimate info on Ultimate, go here.

Push the kart


Kart racing, or karting, is a form of motorsports that uses small, low-motor vehicles with four wheels and an open framework called karts or go-karts. Karting is usually associated with young drivers who want to be serious racers someday. It is the more economical and safer way to introduce motor racing to a kid. But there are also many grownups active in this sport; as a matter of fact, it is popular in Europe although it began in Southern California in the post-war 1950s.

Kart racing is not merely for speed devils; it could help the regular driver to improve and quicken reflexes, develop precision, and aid in decision-making. If you have Schumacherian dreams but sees neither a Formula One nor a NASCAR future for yourself, you can still get behind a kart's wheels to see for yourself how it feels to be like Michael on full throttle. Or, you can always take a run-down Beemer Bug for a spin around the circuit. Rev up that fully loaded Herbie! But then, that wouldn't be an open-wheeled kart.

So where do you go to race karts? The Manila Speedzone is a technical karting track that upholds European standards with a friendly and skilled staff. Everything you need is there: helmets, balaclava (head socks), racing suits, rib protection, neck support, gloves and driving shoes. You can also try out the Kart Trak in Buendia in front of the World Trade Center for a light day of racing with friends and family.

If you're ready for serious laps around the tracks and would want to receive formal kart racing training, the Tuason Racing School is offering basic and advanced courses. Now suit up, buckle your seatbelts, put on your helmet and speed up!