The Metro's Top Nail Spas
posted on Sun, 16 Sep 2007 12:00 AM

Summer may long be over but that doesn't mean the end of flip-flops season for Manila. And, in this day and age where slippers are accepted nearly in every establishment, it is now more important than ever to keep our footsies (and hands, too!) looking immaculate! My search thus begins for a few of the city's best nail spas.

NAIL SPA




The sleek, soothing all-blue-and-white interiors of Nail Spa in Shangri-la Plaza Mall make this spot so conducive to just chilling out with your gal pals while having your hands and feet pampered that through the years, it has become the "it" spot to get your nails done.

Upon entering, you are led to one of their uber-comfy white couches, offered either a refreshing glass of iced tea or a warming cup of hot tea, plus more fluffed up white pillows to rest your tired hands and weary head on. The spa is a tiny haven of cooling hues of blue and white with bizarre artworks on the walls that create a totally funky but calming ambience. One look at their exciting menu of services and you can tell that it was made to cater to all hardcore nail aficionados.

For those who are picky with their nail products, go for the Bliss Hands (P600) & Feet (P990) where your hands and feet are soaked and scrubbed, then moisturized with a mask for the feet, then nails are cleaned and then you'll be treated to a 30-minute reflexology massage for the hands, then 45 minutes for the feet before the nail polish of your choice is applied. The best part about this package is that you get to choose everything the attendants will be using on your hands and feet from a dizzying array of lotions, scrubs, masks, and nail polishes certified hip, hot and super effective by Vogue, Allure and InStyle from the likes of Chanel, Shisheido, and Shu Uemura.

Another hit treatment is the Essie Spa Manicure (P550) & Pedicure (P800) that includes a soak, scrub, mask, 20-minute massage, cleaning and polish all using products from Essie, one of the most trusted names in nail care.

Other interesting services include Cool Hands (P490) & Feet (P720) where mint-infused products are used, Nail Art (P30/finger), Paraffin Wax (P450, hands; P480, feet) and even Waxing for toes (P100)! I cannot commend the place enough for its calming effect it had on me just by being there, but the only thing I can fault Nail Spa for is that the attendants do talk to each other a lot while doing your mani-pedi and it can be a slight problem if you want to nap for a bit. It also gets really busy and crowded in the late afternoons and evenings, especially on weekends, so reservations are highly recommended. Or, just try to visit earlier in the daytime to avoid the crowding of the couches. All in all though, Nail Spa definitely gets a medal for Best Ambience and extra credit for an interesting menu of services!

GLOSS DESIGNER NAILS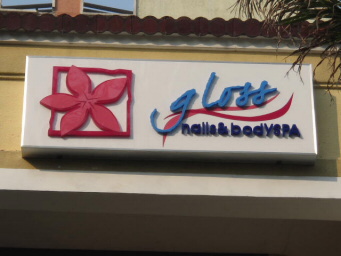 There is generally a more relaxing, spa-like atmosphere at Gloss Nails & Body Spa in Eastwood City. With Zen music playing and Zen water fountains all over the place, and with all the attendants dressed in traditional Siamese uniforms, the feeling is really warmer and cozier and very meditative.

The sight of all the bright pink and yellow recliners throws you off a bit at first especially against the generally earth-colored interiors, but it's forgivable since they're also very comfortable. After being served coffee, tea or iced tea on these fascinating trays that rest on bean bags right beside your recliner where they also give you a hefty selection of magazines to read, you'd be just about ready to snooze while their very attentive nail technicians work on your hands and feet.

Their menu is pretty impressive with offerings like Hot Oil for Fingernails (P400), which uses a clever contraption of a tiny heated bowl where you dip your fingers in for about half an hour that leaves your brittle nails and dry cuticles moisturized and good as new afterwards; Foot Therapy (P500 w/ pedicure) that exfoliates the feet using essential oils to peel off dry, dead, flaky skin that leave it clean and smooth; and different kinds of Nail Art (P20-P40/nail for manual; P100/nail for airbrush; P90/nail for acrylic) where you can even choose rhinestones, crystals and jewels as nail "bling."

The Gloss Luxury Hands, Feet & Nails Treatment (P1130 w/o polish; P480/hands only; P680/feet only) is a unique experience in that your hands and feet are treated to a pressure point massage; a choice of regular or olive oil scrub (additional P20 for olive oil scrub) and the best part--the envelopment of the hands and feet in warm paraffin wax. The heat may feel uncomfortable at first but trust me, after your hands and feet are completely wrapped in warm wax, you'll get used to the heat and even find it soothing, plus it leaves your skin super soft afterwards. Putting nail polish afterwards isn't recommended though, in order to carry on the moisturizing benefits of paraffin.

At Gloss, you can even choose to continue the indulgence with their choice of full body massages, body scrubs and body wraps. I urge you to go for the Xiamen Style Foot Massage (P400/hr) as it is the best way to cap off your hands and feet blow-out. At Gloss, it is definitely all about the menu of services that they offer. With so many choices, you'd be hard-pressed to pick just one!

CALIFORNIA NAILS & DAY SPA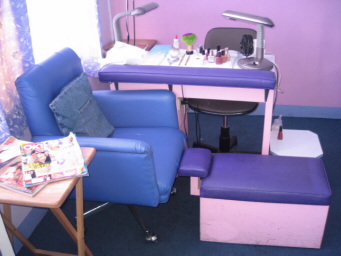 California Nails & Day Spa looks and feels so much more like an office really than a spa. Here, nail technicians sit behind "manicure desks" complete with desk lamps, rotating office chairs for the nail technicians, their manicure and pedicure tools in containers much like office pen holders and even the couches here are replaced with what look like extra comfortable office chairs. But what this spa lacks in ambience, it definitely more than makes up for with its excellent treatments and service.

California Nails & Day Spa follows the California State Board of Cosmetology standards, meaning that they follow the strictest and highest standards for sanitation and sterilization. I was really impressed with how much more professional the people were here than in any other spa, from the way they address each other "Miss" to the way they show how they disinfect all their tools and even their own hands right before they service a client.

I went for the Paraffin Pedicure (P670/1 hr 30 mins) and the Spa Manicure (P310/1 hr 15 mins), and got what was easily the most relaxing nail spa experience of my life. The Paraffin Pedicure is a total feet (plus more!) indulgence that includes a foot soak, cleaning of the nails, sloughing off of the dry, flaky skin with a scrub, hot paraffin wax dip and a gentle foot massage. The bonus was the 15-minute head and back massage they'll give you while your feet and legs are enveloped in soothingly warm wax. Good luck trying not to nod off!

Meanwhile, the Spa Manicure includes cleaning, finger soak, scrub, cold paraffin and gentle hand massage. While nothing life-changing, it was probably the cleanest manicure I have ever had! My nails have never been cleaned and buffed so well! Clearly, these people knew what they were doing. And rightfully so as I have heard that all their nail technicians and operators are constantly trained and taught new skills, techniques and procedures in order to keep up with the latest trends and so that there is continuous learning and practicing every time.

California Nails & Day Spa also ensures quality in their services by using only top quality implements and products. For your nail polish, you can choose from Sation, Mirage, IMP and even from what they call their "Gourmet Polish," which includes the pricier brands such as OPI, Orly, Revlon, L'Oreal, NYC, The Face Shop, and Fasio. Aside from nail services, they also offer facials, body massages and waxing services.

California Nails service is excellent, plus it gets bonus points for those nifty mini-fans they have on the desks, used to help the nail polish dry out faster--and more bonus points for having the most extensive magazine selection. Hey, fabulous Hollywood gossip is always a plus factor in any nail spa experience!

I'm looking for Nail Spa, Gloss Designer Nails, and California Nails & Day Spa.