Tony & Jackey
posted on

Tue, 31 Jul 2007 12:00 AM
I have always thought that Koreans have modern, bold and cutting-edge style when it comes to their hair and beauty. Manila - well, the Philippines in fact - very much enjoys the Korean invasion as we immerse ourselves in their culture through television, music, food, and now even beauty.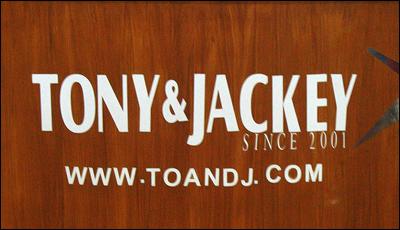 There is this salon that's been making waves around the Korean community here in the country, and the stylish Filipinos have been raving about their fabulous treatments, funky haircuts, and unique nail art.
Tony and Jackey
has aroused my curiosity so much that I decided to try one of their famous hair treatments.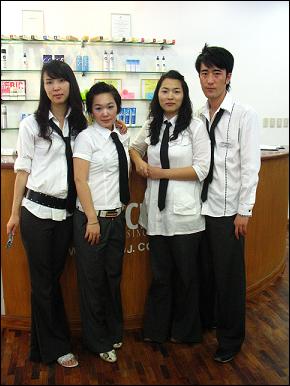 Tony & Jackey Hair Salon was established on 2001 by two Korean hair stylists Tony and Jackey. They started out as a small beauty salon and through time gained loyal customers because of their high quality treatments and edgier styles. As more and more people clamored for Korean hairstyles and hair treatments, Tony & Jackey decided to expand and currently there are branches in Manila, Makati and Cebu.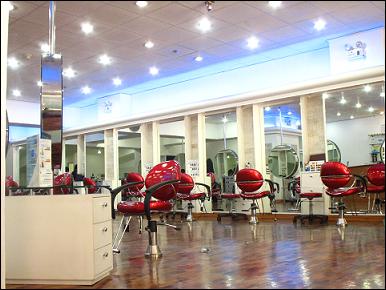 That day I decided to try it out, I was a little hesitant on my way to their branch in Makati. I was afraid that I might get 'lost in translation' when I talk to the Korean stylists about what I will allow them to do and absolutely forbid them to do with my hair. Sure, hair will grow and will be back to its old condition in time, but of course I was still unsure since I have my "tried and tested" parlors that have been places of comfort. Trying out something new - and a beauty service! - still makes me a bit wary.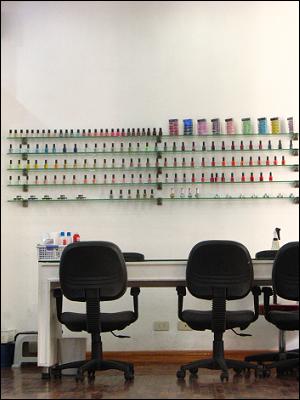 But when I entered the salon, my worries faded (a little!) when I checked out the salon. It was very impressive - the interiors of the salon are very sophisticated, and the place itself was spacious that you won't bump into people as you walk around, to and from your chair and to the shampoo area.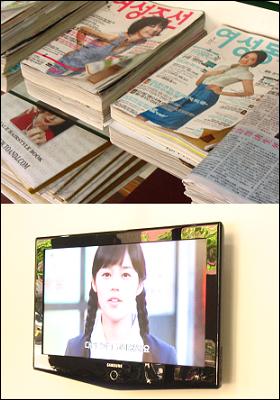 They have a flat-screen TV and a roomy waiting lounge where you can have tea, coffee and water for free. Everything was crisp and clean, brightly-lit, and looked very posh. I was definitely impressed with the way the salon was designed.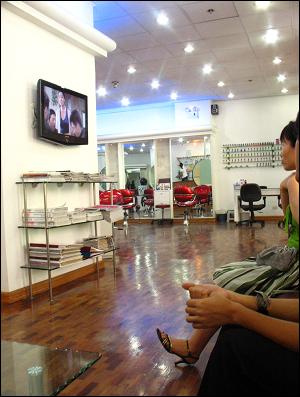 Tony & Jackey salon uses high quality Korean products and equipment - this is an all-Korean salon, as all their hair care products, hair color, and stylists are all Korean. They have Filipino assistants to help them shampoo and blowdry hair, but other than that, you will truly be beautified the Korean way.
Ms. Yani of Tony & Jackey introduced me to Tony, the branch senior stylist who was going to do my hair. For that day, I decided to have a digital perm (P3,000), because Ms. Yani says that their salon is known for that hair treatment. I have had a perm years ago, but this time around will be a 'digital' one, and I honestly had no clue what the difference was!

Digital Perm

"Digital perm gives you bigger and sexier curls," says Tony. Tony has been styling hair for around ten years now, and has been based in salons in different countries. He tells me that unlike other salons here in Manila that have people who have different specialties (one person for cutting hair, another for styling, etc.), he boasts that in Tony & Jackey, they have been trained to cut and style, and color hair, to do hair treatments like rebonding and digital perm. These Korean stylists know it all!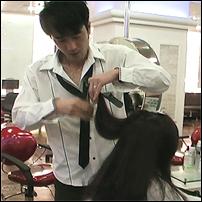 Tony explains to me that the normal perm (short for 'permanent') lasts for about three months, while digital perm will last for about six. My hair is naturally wavy and since there won't be such a drastic difference in my hairstyle, I decided to give it a go.

The whole process took less than 2 hours. I had a shampoo first then Tony trimmed my hair a few inches to remove the split ends and added layers so that the curls will fall more nicely. A pre-perming solution was applied to my hair, then a second solution was applied after 20-30 minutes. Afterwards, it was off to the perming machine for me.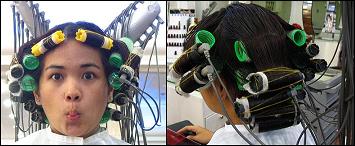 This is not end result of digital perm, thank goodness.



As they were plugging my hair to the machine, I was amused yet a bit scared to see myself in the mirror looking like the bride of Frankenstein - I was panicking that once they turn on the machine I'll 'feel' it and get electrocuted so I kept on bugging the girl who shampooed my hair, asking her if I would feel a thing. She told me not to worry since the machine is very safe and it heats up the curlers so the only thing I would be feeling is a little bit of heat on my hair.

To maintain the curls and bounce of permed hair, Yani tells me to scrunch my hair after shampooing and to not comb through the curls. Conditioning is also important to avoid brittle and dry hair. When styling, just put on some mousse and you're good to go.

Nail Art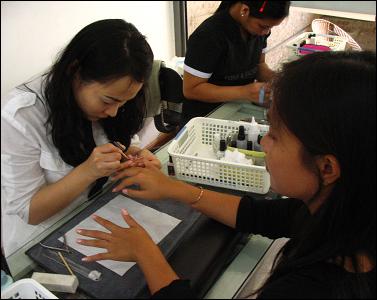 My friend Cookie had her nails done by Yani while I was patiently waiting for my curls to set. Ms. Yani is a nail artist who has work experience in Korea and England. She does all her designs by hand - no stencils, no nail painting machine! Cookie was impressed how quickly Yani was painting her nails, and that she never made any mistakes. Nail art is priced per fingernail, and the price depends on the style's intricacy and if there will be stones and gems added. Cookie's pretty nail art lasted for two weeks.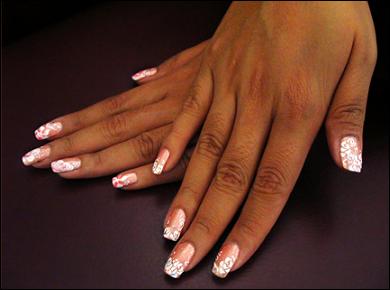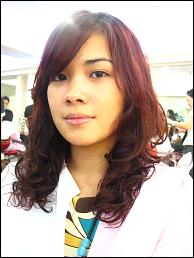 Cookie and I were both very happy with what we had done in Tony & Jackey that day - I have shiny, bouncy curls in my hair, and Cookie had beautiful artwork painted in her nails. If you're like me who thinks twice about trying out a new parlor, you won't be disappointed with this Korean salon. Leave it up to Tony & Jackey to style you pretty!



I'm looking for Tony and Jackey.