CCP Pasinaya 2008 Draws Crowd Record
posted on Mon, 4 Feb 2008 12:00 AM

Thousands of students, teachers, parents with tots in tow, arts enthusiasts as well as foreign guests and local media flocked to the Cultural Center of the Philippines (CCP) for its 3rd Pasinaya: CCP Open House Festival, which opened today.

Pasinaya 2008 kicked off with an impressive display of street parade by the Philippine Marines' Drum and Bugle Corps and the Letran Street Beat, followed by the amazing T'boli dance by the acclaimed Ramon Obusan Folkloric Group (ROFG). Together with the CCP President Nestor Jardin, officials and theater directors of CCP's resident companies, Pasinaya formally opened amidst the singing sculpture of noted visual artist Gerry Leonardo's "Bamboo Boat", where carefully-placed bamboo poles around the CCP Front Lawn served as portal to Pasinaya 2008.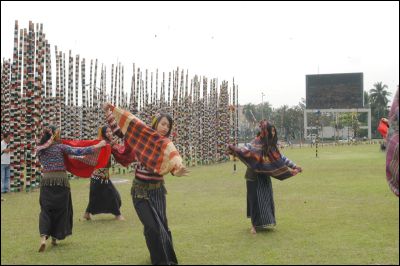 The Ramon Obusan Folkloric Group performs in front of Gerry Leonardo's "Bamboo Boat" installation work at the CCP Front Lawn



With the "See all you can, Pay what you can" scheme, guests from all walks of life came in droves to watch the sneak previews of the CCP forthcoming season events, films, performances, and exhibits.

After the opening ceremonies, the huge crowd went up the CCP ramp and into the Main Theater Lobby where already a multitude of guests awaits the dance performances of Lahing Batangan Dance of Batangas, the Umalahukan Dance Creative Experience, Sindaw Philippines Performing Arts Guild, and Kaloob Philippine Music and Dance Ministry. For ballroom enthusiasts, the Professional Dance Teachers Association (PDTA) gave a limited session on Argentine tango in "Learn Ballroom Dancing in an Instant."


The Lahing Batangan Dance Troupe of Lyceum, Batangas enthralls audiences at the CCP Main Theater Lobby



At the crowded Tanghalang Aurelio Tolentino (Little Theater), music lovers were treated to a melodic euphoria presented by the country's ambassadors of goodwill, the world-renowned Philippine Madrigal Singers and the country's national orchestra, the Philippine Philharmonic Orchestra. Students were ecstatic when they were able to touch and play the instruments of the UST Symphony Orchestra in their Instrument Petting Zoo, while others prefer to attend a Hands-On Workshop by the Minstrels of Hope and listen to the enchanting sounds of the Chiang Kai Shek College Youth Choir, the Liwliwa National Power Chorale and the rumbling sound of the Fredeline Parin's trumpet. Folk dance aficionados had the chance to view the famed Bayanihan Philippine National Folk Dance Company in their colorful costumes.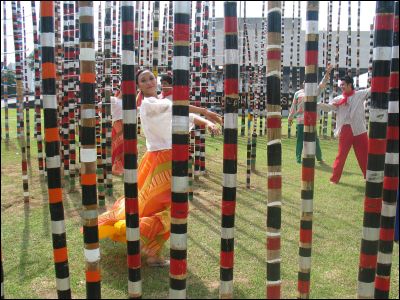 Sindaw Philippines Performing Arts Guild dancers amidst Gerry Leonardo's "Bamboo Boat" installation work during the CCP's Pasinaya 2008



Ballet lovers were treated to excerpts of prominent ballet companies such as Ballet Philippines' Latin Heat and Philippine Ballet Theater's Raymunda Variations, with the Halili Cruz School of Ballet, Claravall School of Dance, plus the dazzling choreographies of independent contemporary dance companies at the Bulwagang Francisca Reyes Aquino.

While some had to scuffle for limited seats inside the various theaters, others were fortunate enough to watch at the crowded Dream Theater some of Cinemalaya's critically-acclaimed indie films like "Gulong", "Putot", "To Ni," "Nine Ball" "Rolyo" and last year's best film, "Tribu". Tanghalang Pilipino's excerpts of "EJ" and "Kudeta"; Virgin Labfest's "Mga Obra ni Maestra", as well as dramatic excerpts from Harlequin Theater Guild, CEU Dramatic Guild, Molave Theater Guild and Pamana Theater Guild, were also presented to the delight of many theater buffs.

Guests who preferred to enjoy the sights around CCP made a tour in other venues, feasting their eyes on the spectacular exhibitions at the CCP galleries. The festive mood spread even outside the building where trade booths or "tiangge" stalls attracted the visitors and passers-by to purchase their colorful items on sale. With the Celso Espejo Rondalla at the background, the festival's carnival-fair atmosphere attracted onlookers with CCP's various folk dance troupes, the College of St. Benilde's Pep Squad and the Centro Flamenco group in their breathtaking performances held at the Leandro Locsin St.

"Ang sining ay isang patunay na mahalaga sa buong mundo," says CCP Artistic Director Fernando "Tata Nanding" Josef, as he addressed the audience during the opening ceremonies at the CCP Front Lawn. "Ito ay para sa ating bayan at sa kapwa nating Filipino." Pasinaya 2008, indeed, is proof that art is flourishing and that there is a growing national consciousness for the 'food for the soul.'

Written By Josie P. Tabanera
Photos by Julio Sambajon and Kiko Cabuena